---
March 2010
3/26/2010
This is a Great Time to Remodel Your Kitchen
In general, the remodeling business is hanging-in there. New home construction is still down significantly. There is evidence that more and more homeowners are staying in place and dealing with their current home's deficiencies. Hot projects include painting, flooring, windows, energy efficiency upgrades, landscaping, decks, and of course, the most popular larger projects like kitchens and baths. As homeowners decide to fix-up their current home instead of moving, the attention of suppliers and contractors has shifted to remodeling. More competition leads to lower pricing and better service. Nowhere is this more evident than in kitchen remodeling.

Companies that have always concentrated on remodeling are faced with more competition from those who used to rely on new construction. Manufacturers, like cabinet companies, who typically sell to both markets, now are concentrating on the remodeling market. All of this is leading to lower pricing and better service from those vying for your business, as well as manufacturer and distributor promotions, somewhat rare from a sector that is not typically known for promotion. Contrary to some reporting, banks are eager to lend for remodeling projects and are aggressively pursuing business with advertising and promotions. Our local branch of US Bank is promoting discounted rates and even came up with a promotional flyer for us to distribute.

A trade magazine article recently suggested that pricing is down about 20% for a remodeled kitchen from a few years ago. At first glance, this appears impossible because no one can survive with that kind of price reduction. But looking at the overall trends in the market, it starts to look possible. Popular counter tops of granite, quartz and solid surface have come down significantly in price due to competition and more efficient distribution. Cabinet manufacturers have been refraining from price increases or only implementing minor increases, usually coupled with product improvements. Most major manufacturers of appliances, plumbing fixtures and other components of your new kitchen have been introducing new products that feature the newest in styling with better quality, more features, better efficiency and better warranties at reduced pricing from previous models. The increased competition mentioned above for local contractors and suppliers has reduced prices. Manufacturers, suppliers, retailers and contractors are all scrambling to implement operating efficiency improvements so they can survive the new reduced prices. Add in the unprecedented promotional discounts currently available and you can see that significant savings are available. (Our Promotions page has never had the amount of significant vendor offers that it currently contains.)

Let's see — better products, better service, better financing and reduced pricing. Yes — this is a great time to remodel your kitchen.

All of this can't last. Take advantage of it while you can.
---
3/12/2010
Off-White Cabinets with Black Island Cabinets
Here is an idea for a change of pace. The perimeter cabinets in this kitchen are an off-white color with a chocolate glaze. The island makes a dramatic statement with its distressed black cabinets. The New Venetian Gold granite tops cover all cabinets.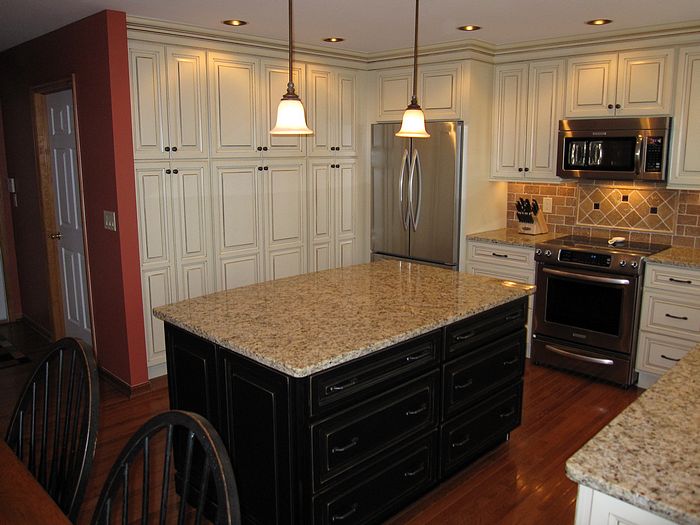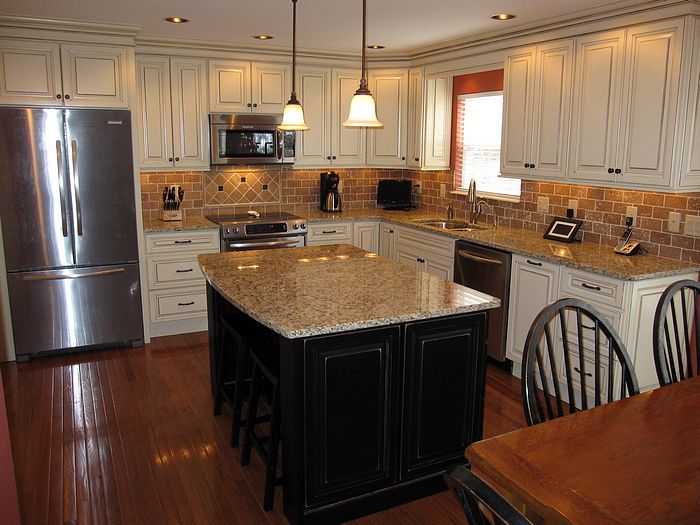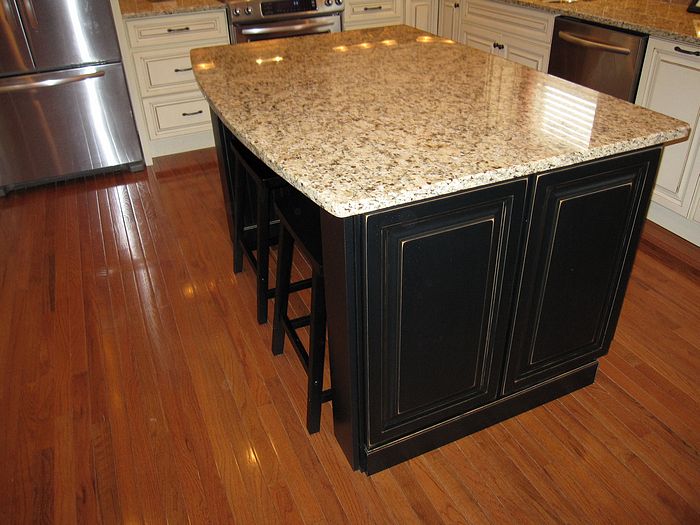 The island has been increased in size from the original island in the old kitchen. The extra room for the seating at the island was created by eliminating the old pantry and replacing the storage with a wall of tall shallow pantry cabinets. The result is that the kitchen feels substantially roomier and much more inviting.
This recently completed kitchen is in West Chester, Ohio, near Cincinnati. To see more pictures of the finished kitchen as well as before pictures, visit West Chester Kitchen.
---
3/4/2010
Our most visited web pages for February
Here are our top 10 visited web pages for February -

after our Home Page
---
February 2010
2/20/2010
Low-Divide Sinks are Gaining Interest
Double bowl sinks are by far the most popular configuration chosen by our customers. Single bowls are gaining a little — probably due to more thought being placed on how the sink is used and the counter and storage space that can be picked up by using a single bowl, especially in a small kitchen like this one in Taylor Mill. But double bowl configurations usually win-out, most often in a larger/smaller bowl arrangement.
Last year some models of double bowls were introduced with a low divider between bowls. This keeps the double bowl function but also gives more room for large items like cookie sheets and pans with long handles, making the ideal combination for some kitchens.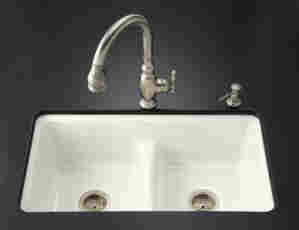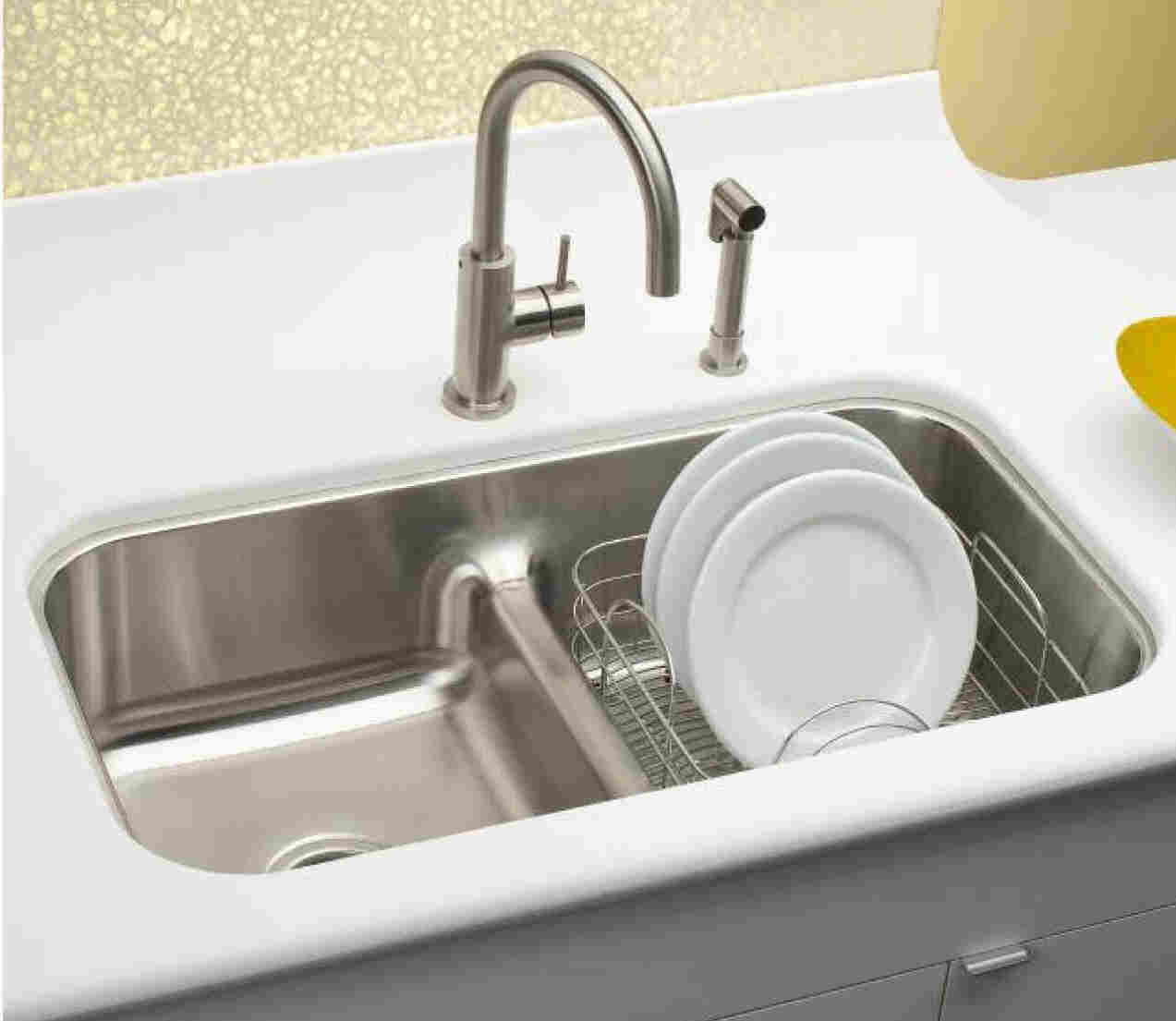 Pictured on the left is a Kohler Deerfield cast iron undermount bowl. Visit here for more Kohler Smart Divide bowls. Pictured on the right is an undermount stainless steel bowl with a low divide from Elkay. Here is a brochure on Aqua Divide bowls from Elkay.
We suspect more models will be available from more companies in the future.
---
2/17/2010
WateRx introduces a New Model WX2500 Under Sink Filter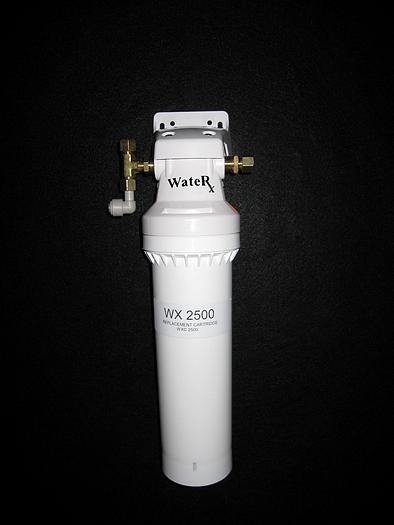 WateRx has just introduced a new model of under sink water filter. This model will connect directly to the cold water line going to the kitchen faucet. This will eliminate the need for a separate faucet for drinking water. The new model is state-of-the-art technology similar to the new model WX1250 recently introduced.
Sometimes a separate faucet is preferred because it clearly identifies the drinking water. However, there are times where the separate faucet is not desired, such as keeping the sink deck cleared for easy cleaning and a preference for not drilling another hole in the counter top or bowl.
The WX2500 has a much larger capacity so that it can filter all cold water used and it is rated to easily last for 1 year of use. The new model's replacement cartridge is easier to change and still costs only $99. WateRx filters are more convenient and much cheaper than bottled water.
WateRx ships products nation wide. It is a locally owned business specializing in top tier filters for point of use and whole house filtering. WateRx represents the best value available when considering the best filtration and cost of use. All WateRx products have a lifetime warranty. More information is available at WateRx.com
---
2/4/2010
Our most visited web pages for January
Here are our top 10 visited web pages for January - after our Home Page
---
January 2010
1/26/2010
Pioneer Cabinetry Introduces All Wood Construction Option
Pioneer has added a new permanent plywood construction option to their product offering. All wood construction will cost 12% additional on applicable cabinets. This should result in a very reasonable 7% to 9% upcharge on a whole kitchen including options and molding. This is more reasonable than the previous customization charge of 10% of the whole order for plywood construction.
Interiors will be clear finished maple wood on all surfaces and shelving when this option is ordered.
---
1/18/2010
Wellborn Forest Announces 2 Week Production Schedule
Wellborn Forest has announced a more efficient production schedule that will result in a 2 week production cycle. Instead of producing all cabinet orders on the same schedule, production is now divided into 5 regions, each with different cut off days for orders and production dates for shipping. We are in Zone 5 and orders placed by Wednesday will be ready for shipping on Friday, 9 days later. Delivery will be the following week.
Now you can get quality made-to-order cabinets with many choices of woods, door styles and finishes in an almost unbelievable 2 weeks.
---
1/6/2010
Wellborn Forest Winter Promotion
Wellborn Forest has announced a promotion that offers free upgrade to Blumotion full extension soft-close drawer guides. Minimum purchase to qualify is 12 cabinets. Promotion runs until March 31, 2010.
See Promotions page for details.
---
1/4/2010
Our most visited web pages for December
Here are our top 10 visited web pages for December - after our Home Page
---
December 2009
12/21/2009
New Promotions
We have asked our suppliers for any promotional opportunities they may want to offer that could be beneficial for our customers. Because of the response, we are able to make some attractive offers.
Both of these new offers are available when you purchase your kitchen from Prestige Interiors.
Free tile for your backsplash
Select tile for your backsplash from Florida Tile in Blue Ash and your tile will be free, up to $300. All selections from Florida Tile are included except the lower priced builder quality tiles. Promotion includes ceramic tile, stone, inserts and borders.
Free water filter
Your new kitchen can now include a free water filter. We are able to offer WateRx model WX1250 under sink water filter for free. WateRx is a top quality filtration company and the model WX1250 is their newest, latest generation filter.
See our Promotions page for details.
---
12/4/2009
Our most visited web pages for November
Here are our top 10 visited web pages for November - after our Home Page
---
November 2009
11/21/2009
Tile Backsplash Idea
Here is a new kitchen in Cold Spring that has an interesting backsplash. The tiles are porcelain in 2 shapes and there is a border made from strips cut from sheets of ¾×¾ stone mosaics. The effect is very interesting and sets off the contemporary hood - kind of the focal point of the kitchen.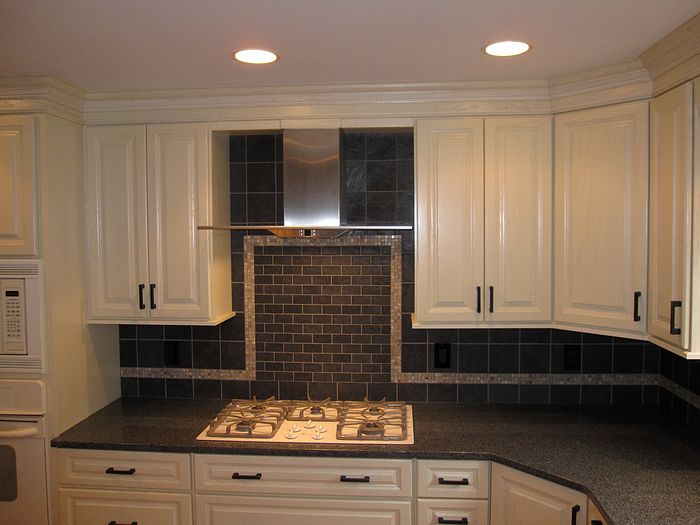 The tiles are from Florida Tile. The counters are Pepper Grey granite.
This kitchen is in Cold Spring, Kentucky, near Cincinnati. For more pictures of this kitchen, visit Cold Spring kitchen on our blog.
---
11/9/2009
Wellborn Forest Introduces New Doors and Finishes
3 Door Styles are completely new: In order below are Boston, Lexington and Jackson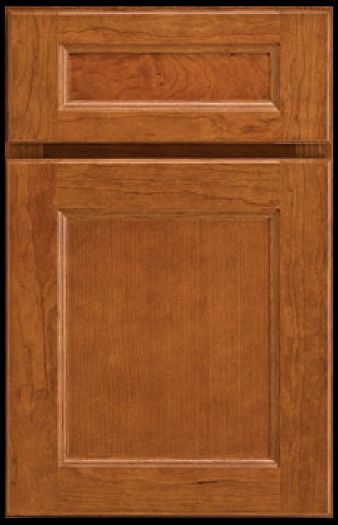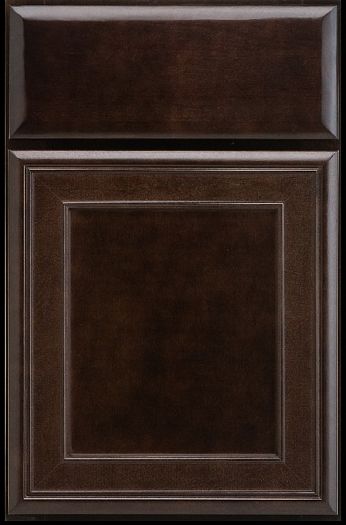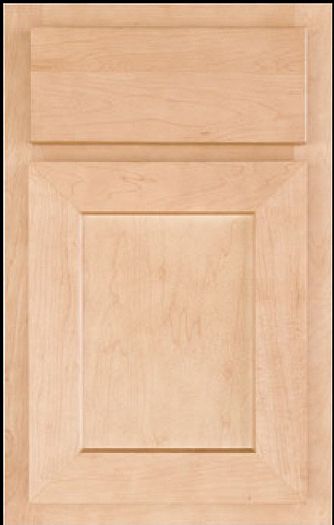 In addition, several maple doors are now available in oak and cherry.
Also 42 new finishes are available, including many new solid colors and glazes.
The popular 5 piece drawer front option has been extended to include many more doors, including the new styles Boston (left) and Lexington (center) shown above. Lexington is shown with a slab drawer front; a 5 piece front is available.
Wellborn Forest has been a great choice for quality cabinetry at reasonable prices. The wide selection of door styles, finishes and details has attracted many customers. The commitment to offering the styles, finishes and conveniences you want continues with these new additions.
---
11/2/2009
Our most visited web pages for October
Here are our top 10 visited web pages for October - after our Home Page
---
October 2009
10/13/2009
Kitchen 'Top of Mind' for Design Upgrades: Amana Survey Reveals
Benton Harbor, MI — When it comes to upgrading the home, consumers would most like to redesign and bring some style to their kitchen.
That's the conclusion of a newly released survey conducted by appliance manufacturer Amana. The survey, whose results were announced this summer, concluded that the kitchen is the No. 1 room (34%) consumers would most like to see get a design facelift (see graph below).
Overall, the Whirlpool Corp.-owned Amana reported, 65% of those surveyed believe their home represents their sense of design, with the majority of these consumers identifying the kitchen as the hub of their home. In fact, 43% indicated the kitchen was the room they could not live without, and nearly one-third chose the kitchen as the best for entertaining.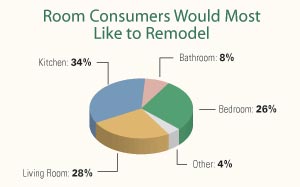 Reported in Kitchen and Bath Design News, October, 2009
---
10/3/2009
Our most visited web pages for September
Here are our top 10 visited web pages for September - after our Home Page
---
September 2009
9/30/2009
2009 Kitchen and Bath Show - October 16 - 18
This year, greater Cincinnati's Kitchen and Bath show will be in October, Friday 10/16 through Sunday 10/18 at the Northern Kentucky Convention Center. We will have a booth again this year so please stop by if you go. We would love to talk to you about your kitchen or bath.
For show times, directions, etc., go to Hart Productions Kitchen, Bath and Remodeling Show.
Our booth will be similar to last year's, shown here ↓↓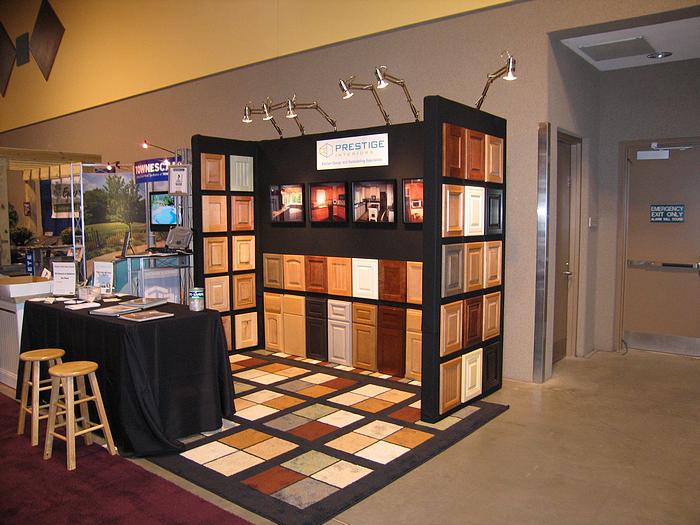 FREE TICKETS
As an exhibiter, we have a supply of guest passes. If you would like to attend, please let us know - we are very happy to help with free passes - while supplies last.
Call now (513) 247-0229 or Email John for your free passes
---
9/11/2009
Tumbled Stone Backsplash
Here is a recently remodeled kitchen featuring a great new tumbled stone tile backsplash. Most of the tiles are 3×6 subway tile size. The accent area over the cooktop is made of 4×4 stone tiles installed diagonally inside a stone border. The stones are noce (dark) color and the tiles have been sealed with an enhancing sealer.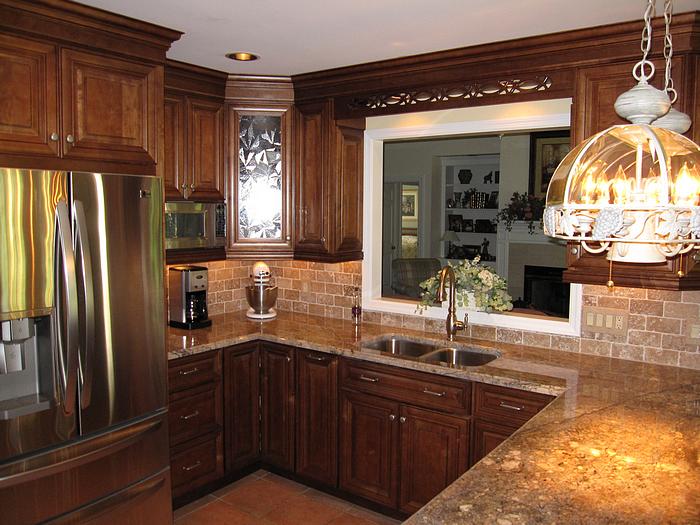 .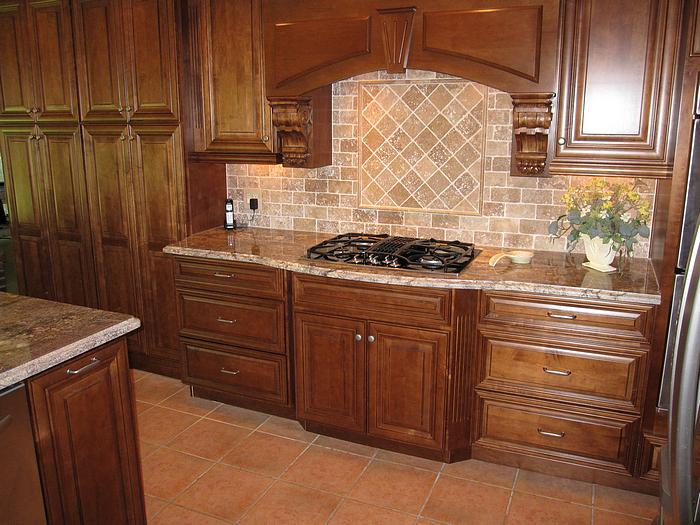 For more pictures of this kitchen, visit 7200 Loveland kitchen on our blog. This kitchen is in Loveland, Ohio, east of Cincinnati.
---
9/02/2009
Our most visited web pages for August
Here are our top 10 visited web pages for August - after our Home Page
---
August 2009
8/22/2009
Cabinet Storage Idea
Sometimes a kitchen design has some small spaces that can be put to good use. In this small kitchen, the use of a single bowl provides additional valuable counter space and allows using a smaller sink base. After centering the sink on the window, there was some space that came in handy for some additional storage. There is about 7" to the left of the sink and about 3½" of space before the dishwasher. Pull-out filler storage was worked in to both spaces. The homeowner remarked that she couldn't believe how much storage there is in these fillers. Both fillers pull all the way out for complete access. These pull-out fillers have adjustable shelves and come in 3" and 6" versions as shown here.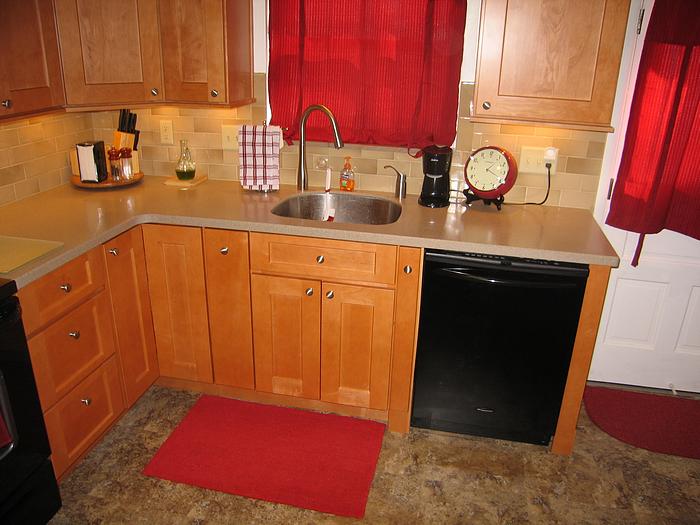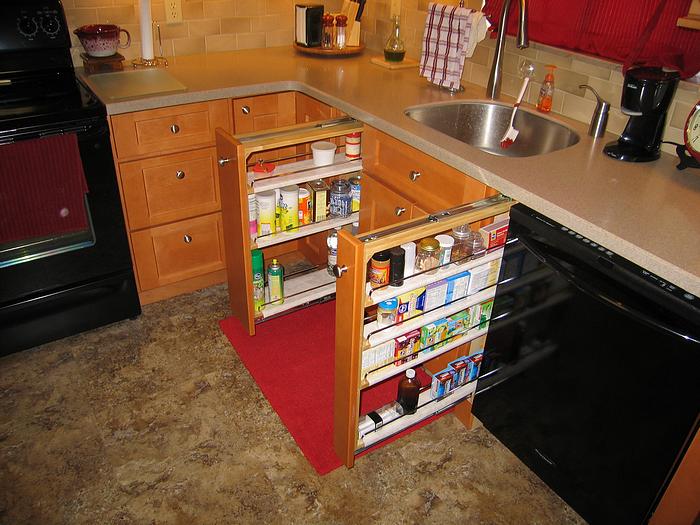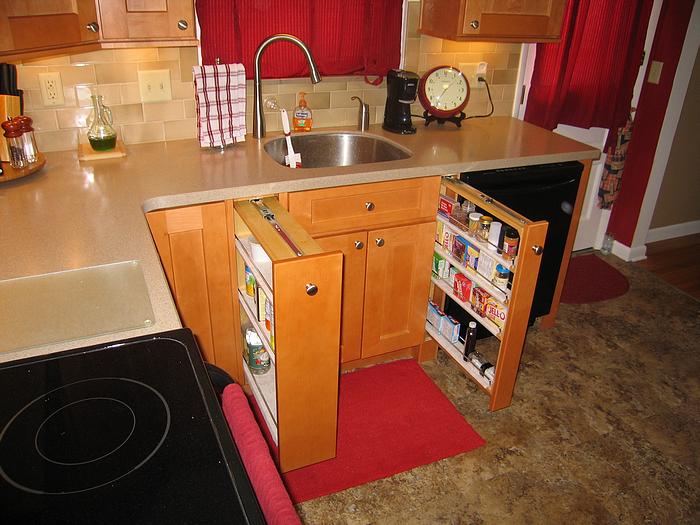 For more pictures of this kitchen, visit 7179 Taylor Mill kitchen on our blog or the page of pictures for Taylor Mill kitchen on this site. This kitchen is in Taylor Mill, in northern Kentucky, near Cincinnati.
---
8/12/2009
Tile backsplash idea
Here is a tile backsplash that mixes sizes and a liner of the same tiles to achieve a distinctive look. The bottom row is made of 6×6 tiles (cut down a little to line up with the bottom of the molding below the window sill). A liner is above the first row and 3×6 tiles finish the wall up to the bottom of the wall cabinets. The design is subtle and understated. The tiles are porcelain and came from Florida Tile.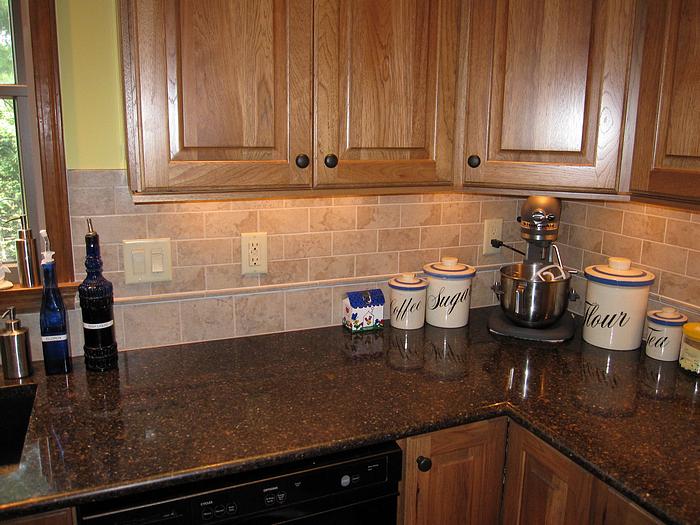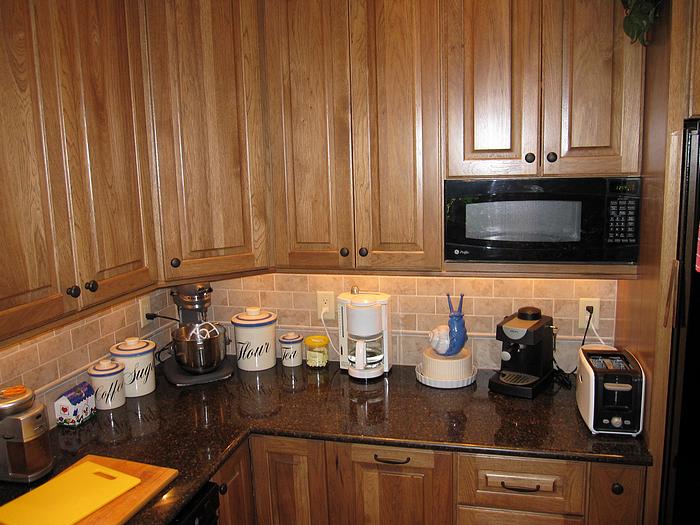 For more pictures of this kitchen, visit 7199 Anderson kitchen on our blog. This kitchen is in Anderson Township, east of Cincinnati, Ohio.
---
8/03/2009
Our most visited web pages for July
Here are our top 10 visited web pages for July - after our Home Page
---
July 2009
7/25/2009
How much does a kitchen cost?
This is a very common question. It is hard to answer without more information. It is like asking how much a car costs or how much a house costs. It depends on a lot of factors — what kind of cabinets and counters do you want, how much construction is involved, what age house and type of construction are we working with, etc.
Here are 2 attempts to answer the cost question, both using averages and some assumptions.
Average — by job description
On our FAQ page, we have a link to a Cost vs Value report from the publisher of Remodeling Magazine. That link is here — 2008-09 Cost vs Value. These are averages based on a prescribed list of general products and work description for various projects. Costs are provided by HomeTech Information Systems, a remodeling estimating software company. Obviously, you can spend much more or much less.
Automated Calculator
Here is another tool that gives an approximation of costs based on kitchen length, width and height, general layout shape and your zip code. They are definitely making some assumptions and obviously your costs will vary, but it is kind of fun to see what it comes up with. This is from RS Means (a supplier of costing software for contractors) and Consumer Reports.
RS Means QuickCost Kitchen Remodeling Calculator
---
7/20/2009
Small storage space over refrigerator
We usually leave only a small space over the refrigerator and then fill it in with a filler or valance.
In this case, the refrigerator is shorter than usual and the refrigerator cabinet is approximately 72" from the floor - enough to allow a taller refrigerator in the future, if the need should arise.
So what to do with the space — how about putting in a shelf and finishing the interior. The space can be used for small baskets or bins and adds a nice decorative touch.
For more pictures of this kitchen, visit 7202 College Hill kitchen. This kitchen is in the College Hill area of Cincinnati, Ohio
---
7/03/2009
Our most visited web pages for June
Here are our top 5 visited web pages for June - after our Home Page
---
June 2009
6/15/2009
Storage and seating idea for small kitchen
Here is an idea for a small kitchen. It seems you can never have enough storage, and having a seating area in the kitchen is also high on a lot of homeowners lists.
Before this kitchen was remodeled, the homeowner had a small table/cart in this location and wished to have a similar amount of seating in the new kitchen. The tall cabinets on each side provide a lot of storage and the center section above the table top allows some display area behind the glass doors and a place for some stemware.
The top is at counter height, so it can also provide additional work space, when required.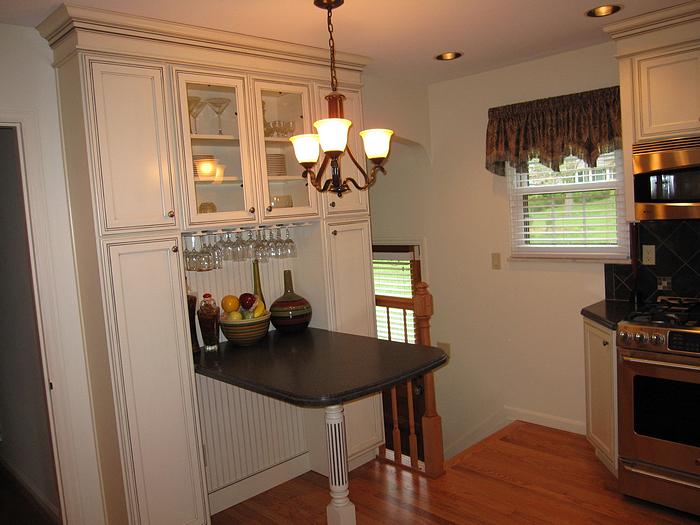 For pictures of this kitchen from beginning to completion, visit College Hill kitchen on our blog.
---
6/12/2009
Wellborn Forest announces price increase
Wellborn Forest Cabinetry announced a price increase today, to be effective in early July. The increase is stated to be 2%, fairly moderate considering the current pricing dates back well over a year. There is still ample time to order before the increase. Just let us know you would prefer to beat the increase.
---
6/03/2009
Our most visited web pages for May
Here are our top 5 visited web pages for May - after our Home Page
---
May 2009
5/17/2009
6 Trends for 2009
As identified by Kitchen and Bath Business Magazine
Growing Appreciation of Green Products – With today's consumers being more environmentally conscious than ever, the demand for affordable, stylish green products is on the rise.
Introduction of a Middle Ground – Affordable Style – Consumers no longer have to choose between the extremely high-end, expensive products or the standard offerings. Now, there appears to be a middle ground that offers stylish and functional products at reasonable prices.
Pop Colors – Increased focus on colors that make a statement. As we made reference to a few weeks ago, experts are predicting that color will continue to be incorporated into all types of home products, including appliances, cabinets, tile, etc.
Visual Blending Between Kitchen & Living Spaces – As more homeowners continue to use their kitchens as living spaces, we can expect to see more furniture-style pieces in the kitchen and concealed appliances to "mask the cold stainless-steel ambiance of the room."
Automation/Technology – Consumers are continuing to demand products with advanced technology to save time on everyday chores.
Storage Accessories – Storage is playing a greater role in today's kitchens because people are spending more time in this particular room of the home.
---
5/16/2009
Cooking with Marilyn Show, Saturday 5/16/2009 — hour 3
John from Prestige Interiors was Marilyn's guest on hour 3 today from 3:00 to 4:00pm on 55WKRC. Thanks to Marilyn for being a gracious host, as always. It was fun and hopefully entertaining and informative for those listening. If you missed it and would like to hear it, click Download podcast (mp3)
---
5/12/2009
KBIS - Some new introductions
Here are some new products displayed at the 2009 Kitchen and Bath Industry Show recently in Atlanta. Some are available now and some will be available in the near future.
GE Appliances introduced a new double wall oven that fits in the space of a single wall oven. Obviously the oven configurations are smaller than a full size double oven, but where storage space is at a premium or if replacing an existing single oven, this oven could come in handy.
GE also introduced it's version of a freestanding range with 2 ovens. GE Appliances
LG Appliances showed a new dishwasher with true steam cleaning. LG Appliances
Jenn Air Appliances showed a new Pro Style cooking collection and new refrigerators, induction cooktops and a redesigned Oiled Bronze finish. Also introduced was a non-ducted downdraft cooktop that could be a great solution for remodeling a kitchen in a home on a slab or anytime there is no means to duct it outside, like a condo or high rise building. Jenn Air New Products
DalTile showed some new textured finishes on ceramic tiles. Some new finishes include concrete simulations and finishes with a realistic leather look. Daltile.com
Kohler showed a new faucet finish color - Moderne Gold, in polished and brushed versions. Other introductions by Kohler include Flipside, an innovative version of a hand shower with 4 distinctive spray patterns, and Honed White, a new matte finish on select series of china bathroom fixtures. Kohler also showed some new cast iron finishes for kitchen sinks. Kohler - What's New
Seura showed some new models of their interesting product line - mirrors with lights or TVs installed within the mirror. The bath mirrors can have a TV installed within the mirror area that completely disappears when the TV is off, looking like a normal mirror. Mirrors with much larger TVs in them can conceal the TV in a family room, very interesting concept. Seura.com
Seura mirrors↓↓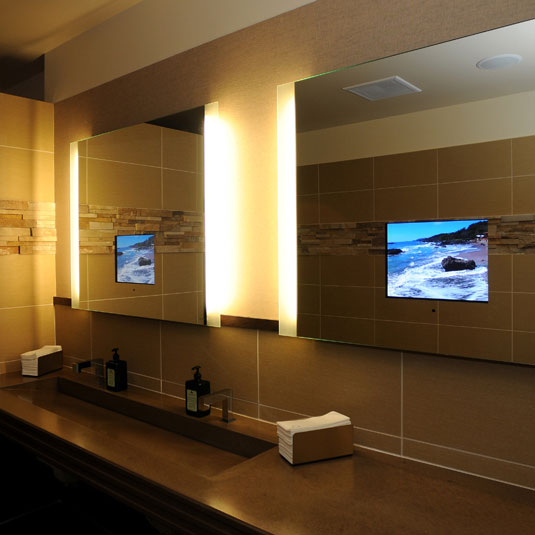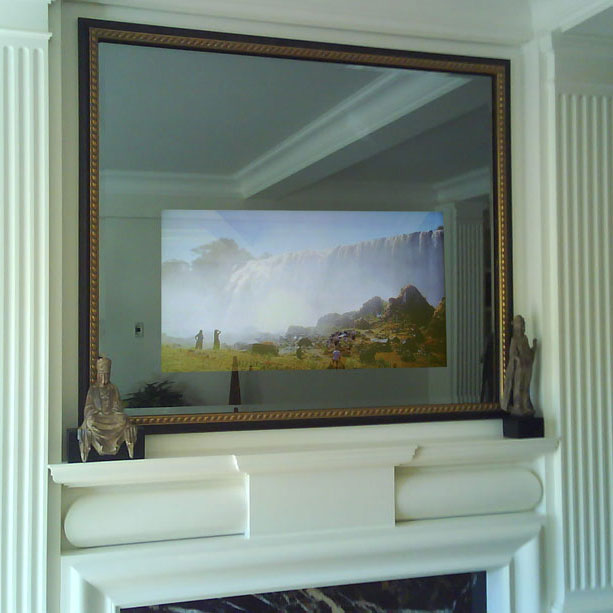 Lutron introduced an innovative wireless dimmer switch and remote that can easily add 3-way switching to lighting or lamps without any wiring. The existing switch is replaced with the new wireless version and an additional remote battery powered switch is added in the new switch location - no new wiring involved. There is also a version for controlling lamps with switches or hand remotes. Lutron.com
New colors and patterns were on display from most manufacturers of solid surface and quartz counter tops. DuPont Corian had some interesting patterns added to their Private Collection series. Caesarstone introduced Motivo - the first quartz surface with an embossed, textured look and feel.
Corian countertops CaesarStone Motivo
Lansen introduced Edge undermount stainless steel sink bowls that can be installed with virtually no seam between the counter and the bowl - similar to using a solid surface bowl. It is visible because of the color/texture difference, but there is no gap to clean. Edge sinks
Lansen Edge sink↓↓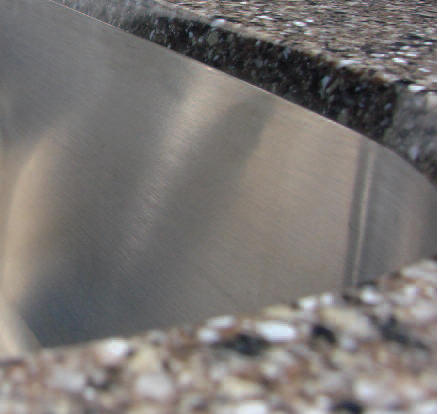 Affluence Sinks exhibited their seamless stainless steel sinks. The sinks are seamless at the drain for a great look and easy maintenance. Affluence Seamless Sink
Affluence sink with seamless strainer↓↓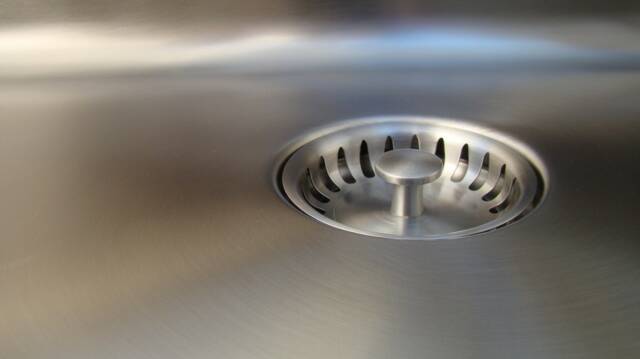 Health Craft showed the Invisia Collection - a series of grab bars that blend in with tub or shower fixtures. They provide the safety and security of having sturdy grab bars where needed, but they also function as soap dishes and accents. Invisia collection
---
5/5/2009
Our most visited web pages for April
Here are our top 5 visited web pages for April - after our Home Page
---
April 2009
4/30/2009
John will be on "Cooking with Marilyn" on 55 WKRC
Marilyn Harris has invited John Ryan from Prestige Interiors to join her on her "Cooking with Marilyn" show on Saturday May 16, 2009 during the third hour (3:00 to 4:00 PM). We will be discussing the latest products and trends at this year's Kitchen and Bath Industry Show - May 1 - 3, in Atlanta. Should be fun - hope you can join us. Marilyn is on WKRC 550AM in Cincinnati or 55krc.com online
---
4/28/2009
Backsplash Idea
Here is a recent backsplash installation using 6½" porcelain tiles with multi-color glass tile inserts. The inserts are made using 9 ¾" glass tiles cut from a 12" × 12" sheet.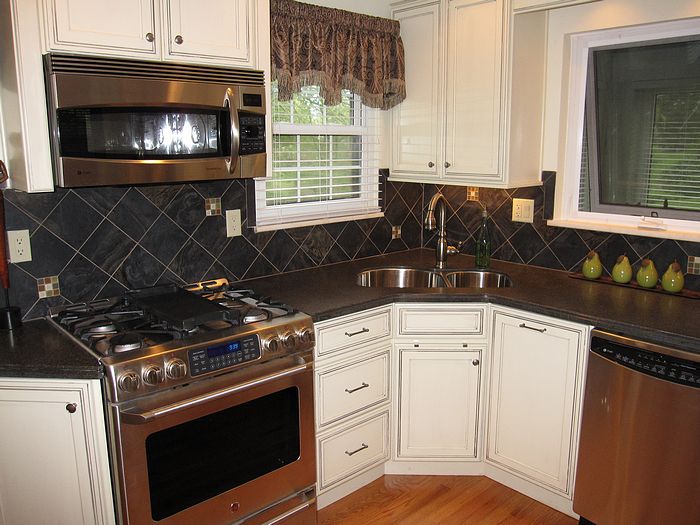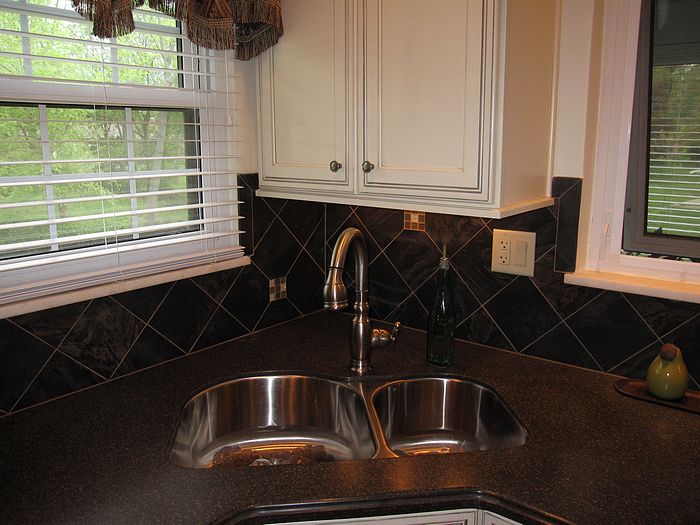 For more pictures of this kitchen as it progressed, visit College Hill kitchen
---
4/10/2009
K/BIS in Atlanta May 1 - May 3, 2009
The annual Kitchen and Bath Industry Show opens in Atlanta in 3 weeks. The show offers seminars and training to keep industry professionals up to date and includes a huge exposition in the Georgia World Congress Center where hundreds of suppliers large and small will exhibit their products and new offerings. It is a great place to see what is new and what trends may be developing. We will report on new products and trends after the show.
This is a trade show and only open to industry professionals. Registration is required.
---
4/02/2009
Our most visited web pages for March
Here are our top 5 visited web pages for March - after our Home Page
---
March 2009
3/20/2009
Backsplash trends
It is interesting to see what our customers like for backsplash tiles—designs, sizes of tiles, patterns, borders, etc. Of course, we are also involved in the design and always willing to help with suggestions. So of course we always want to know what is currently available and what is selling.
On recent visits to two tile showrooms (Florida Tile and Louisville Tile), I asked what was popular for backsplashes. Both suppliers had similar comments. Both said that stone tiles, mostly 4×4, were the most popular. Most stone backsplashes are usually limestone or marble. There are new square cut stone tiles (as opposed to tumbled stone) that are beginning to sell. Borders and/or inserts are popular with stone. Glass tiles are used increasingly as borders and inserts.
Glazed porcelain and ceramic tiles in 4×4 and 6×6 sizes are also popular. Glazed tiles do not have to be sealed (however the grout does). 4×4 glazed tiles are hard to find, there is a very limited selection available. 6x6 tiles work well on a backsplash, but the larger size is a little limiting if you are trying to make an interesting pattern, say involving diagonal tiles. Borders and/or inserts are likely to be used with glazed tiles also.
Other sizes that are used are 3×6 (subway tile size) and mosaics. 3×6 tiles come in stone and glazed ceramic and porcelain. A smaller 2×4 size is available in glass and stone. Mosaics are usually between 1×1 to 3×3 and can come in porcelain, glass and sometimes stone. A lot of the current mosaics are a little contemporary. Mosaics can be a little pricey—especially the glass tiles.
There is also some interest in the custom, hand painted tiles that come in interesting colors and finishes. A lot of these tiles come in the popular 4×4 size, but the high cost of most of these tiles keeps them from selling well.
---
3/09/2009
Interesting tile backsplash idea
Here is a recent tile backsplash installation. The tiles are 4 × 4, with a standard row of tile at the counter with tiles above the first row installed diagonally. There is a border above the first row and some random insert tiles that are both made with ¾ × ¾ glass tiles. The field tiles are from Florida Tile and the glass tiles are by Jeffrey Court.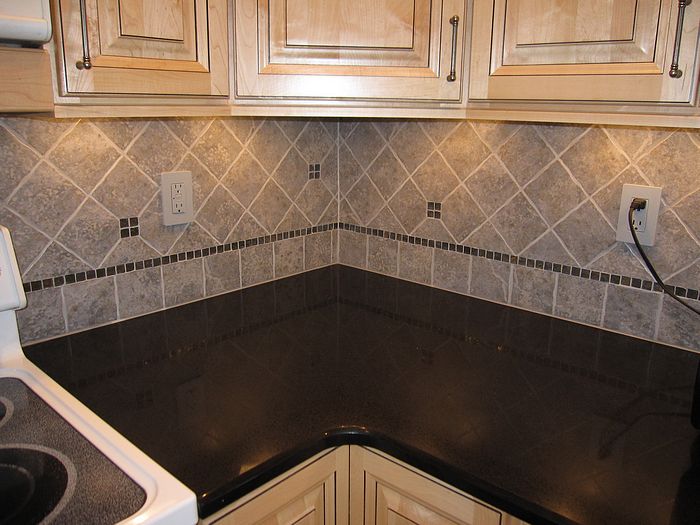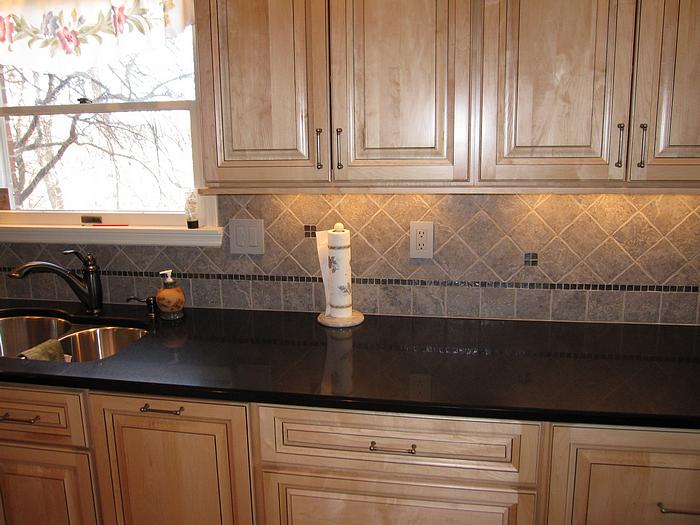 For pictures of this kitchen as it progressed, visit West Chester kitchen
---
3/08/2009
Our most visited web pages for February
Here are our top 5 visited web pages for February - after our Home Page
Interesting that 3 of the top 5 are pages of pictures
---
February 2009
2/28/2009
Popular cabinet option
Successful kitchen remodeling involves a continuous quest for more convenience and better storage solutions. An idea that has been used by 2 recent customers is to put tray dividers in the cabinet over the refrigerator. This only works when the cabinet is deep and approximately flush with the front of the refrigerator. The contents are easily accessible because you only have to reach the front edge of an item.
Here is an example —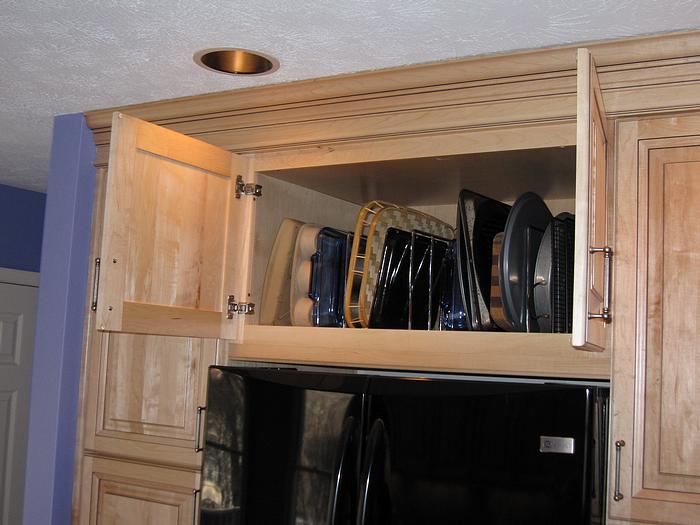 The cabinet above has 4 of the new double dividers (total of 9 slots). The cabinet shown is 36"w × 18"h × 24"d. The refrigerator is a cabinet-depth model.
---
2/21/2009
Unofficial Remodeling Poll
Gary Sullivan is a nationally syndicated home improvement expert who is based in Cincinnati and heard weekends on 55 WKRC. The show usually has a poll that listeners and visitors to www.garysullivanonline.com can vote on. The polls are not scientific, but can be interesting.
This past week's poll is about whether you will be remodeling this spring or summer. Gary seemed to speculate that if people are not moving, there might be increased interest in remodeling.
The poll results look like they bear that out. Not scientific, but fun.
Poll Results 2/14/09 — 2/21/09
Do you plan on remodeling this spring/summer?
| | |
| --- | --- |
| Yes | 68% |
| No | 26% |
| Not until 2010 | 6% |
---
.
January 2009
1/15/2009
New Page for Listing Current Promotions
We have added a new web page to list any promotions or specials that are available from our suppliers. Everyone likes to save on quality products and services. Now we have one place to look for current savings.
On occasion promotions are announced by cabinet manufacturers, counter top fabricators and other wholesale distributors.
In addition to supplier specials, we are occasionally made aware of financing specials or quality products that are marked down or free.
Check out current specials on our Promotions page
---
October 2008
Kitchen and Bath Design Show / Fall Promotion
We teamed up with Custom Distributors again this year for a special savings on your appliances when you purchase your kitchen from Prestige Interiors.
This promotion has expired.
---
September 2008
Kitchen and Bath Design Show - September 26 - 28
This year's Kitchen and Bath Design Show is scheduled for the last weekend in September, Friday 9/26 through Sunday 9/28 at the Northern Kentucky Convention Center. We will have a booth again this year so please stop by if you go. Our booth will be similar to last year's, shown here ↓↓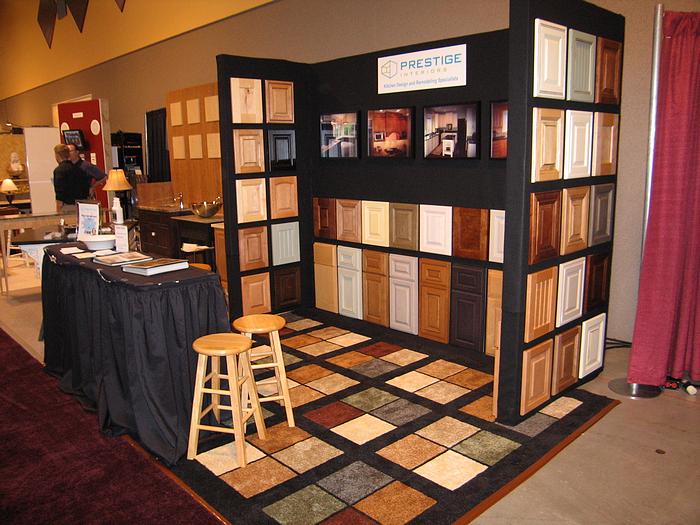 FREE TICKETS
As an exhibiter, we have a supply of guest passes. If you would like to attend, please let us know - we are giving our passes away - while supplies last.
Call (513) 247-0229 or Email John to inquire about the free passes.
---
July 2008
Wellborn Forest has new product introductions
New doors
2 new door styles are available. Alexander and Avondale both feature 5-pc drawer fronts that match the doors.
New colors
4 new colors are available: Champagne (off-white), Linen (beige), Paprika (reddish), and Caviar (black). The new colors are added to the previous solid colors Pistachio (green), Ivory (off-white), Arctic (white) and Banana Cream (yellow) and together they all make up the new Essentials Collection.
New highlight glazing
The new Silhouette Collection has been created consisting of 2 new highlight glazes - Sable (dark brown) and Smoke (black). The highlighting is available on selected doors and moldings where it is effective. The highlighting differs from the 5 glazes previously available because it is applied only to the profiles and recesses of the doors, drawers and moldings - not the entire surfaces. Highlighting is designed to add a clean accent that is more even and consistent without the overall tonal effect of glazing.
---
May 2008
New Cabinet Line - Pioneer Cabinetry
We are taking on a new cabinet supplier. Pioneer Cabinetry is manufactured in Davison, Michigan and brings a bit of customization to a popular price point. Pioneer will build special sizes and will color match for unique finish stains and paints--all at a price that is close to more standard production cabinets. Pioneer production schedule is typically 4 to 5 weeks, again close to the production cabinets. Pioneer's strong point is the top notch hand finish they apply to all of their cabinets.
Here are some of Pioneer's specialty doors ↓ (many more available)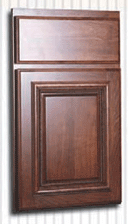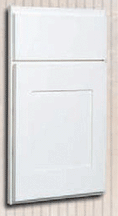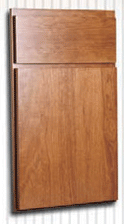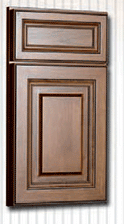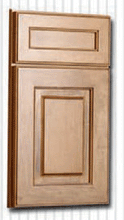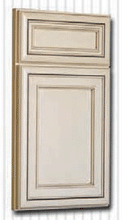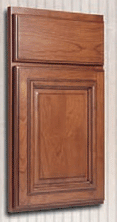 Woods available include maple, cherry, hickory and oak. There is a wide range of stains available and 8 painted finishes are also offered. Glazing, weathering and distressing are available. Custom stains and paints are also available.
Our color and finish samples arrived recently. We have some door samples on order and will be adding to our selection in time.
---
April 2008
John will be on "Cooking with Marilyn" on 55 WKRC
John Ryan from Prestige Interiors has been invited by Marilyn Harris to join her on her "Cooking with Marilyn" show on Saturday May 3, 2008 on the third hour (3:00 to 4:00 PM). Marilyn wants to talk about kitchen and bath trends, simple kitchen fix-ups for Spring, what is popular for counter tops, and all things kitchen design. Should be fun - hope you can join us.
---
.
Wellborn Forest adds features
Wellborn Forest cabinetry has announced some new offerings:
Updated Warranty - new warranty is now a lifetime warranty for original purchaser
New Cherry Styles - 3 door styles now available in cherry
New Finishes - a reddish brown stain (Rosé), a new glaze (Shadow), a new white paint
---
March 2008
Trends
Discussion-type articles in the March online version of Kitchen and Bath Business, a trade publication, center on trends and stainless steel. The articles address common questions that arise when considering a new kitchen.
In the article about trends, "kitchens as living rooms" is mentioned as the biggest trend. Participants said more homeowners are knocking down walls, especially between the old kitchen and dining room, making a larger, more comfortable space. Everyone seems to gather in the kitchen and we want a kitchen that accommodates the situation.
Another topic is stainless steel in the kitchen – fad or lasting color? The opinions quoted seem to be that stainless will be around a long while and that it will not "date" the kitchen, even referring to stainless as classic. Other colors will rise in popularity, like black or possibly a new darker color (like Jenn-Air's new oil rubbed bronze color).